What Is Arkansas Known For?
Posted by Rae Adelantar at
No idea what is Arkansas known for? There are many things that come to mind when one thinks about the "Natural State."
It would also depend on whether you are a local, have visited a few times, or just know where it is on the map.
As interesting as it is, it's a bit hard to pick just a few notable things about Arkansas. Nevertheless, we did our best to answer the question thoroughly and accurately.
Here are the top things that Arkansas is famous for, from landmarks and structures to gems and tourist attractions.
What Is Arkansas Known For?
Below are some of the most interesting things people automatically think of when they hear Arkansas. There are so many, so we narrowed them down to this short list:
1. Hot Springs National Park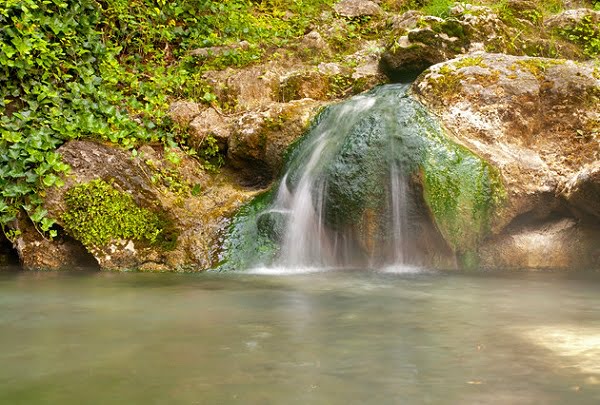 If you are going to visit Arkansas, your trip won't be complete if you do not go to the Hot Springs National Park.
It is quite popular among tourists and has had around 100 million visitors since 1904, which is the year it started tracking attendance.
Sitting between the Ouachita Mountains, it is blessed with many natural hot springs, which is how it got its name.
You can take your pick from any of the indoor or outdoor pools and just soak your aches and worries away.
Many even believe that its waters have healing powers. This is true to some extent because it helps you deal with stress.
2. William J. Clinton Presidential Library and Museum
This building on the Arkansas River in Little Rock houses the presidential library and museum and the offices of the Clinton Foundation.
It was built on top of a 17-acre land and is surrounded by a 28-acre public park.
Designed to look like a bridge, it was meant to symbolize the bridge between the past and the future.
It includes permanent and rotating exhibits showing the life of the 42nd president of the United States and his family.
You will see photos, artifacts, and other items, as well as a full-sized replica of the Oval Office. Occasionally, it also serves as a venue for some local events.
3. Crater of Diamonds State Park
The Crater of Diamonds State Park is another well-known destination in Arkansas for families who want a memorable trip.
What makes it unique is that it allows visitors to rent different tools and equipment for mining and use them to search for diamonds.
How cool would it be to come home and show your friends and relatives a beautiful souvenir that you dug up yourself?
Just a quick drive from Murfreesboro, the state park is the only active diamond mine that is open to the public.
Over 75,000 diamonds have been found here since 1906, but it only became a state park in 1972. It has a museum, a water playground for the family, and a campground beneath the trees.
4. World's Championship Duck Calling Contest
Duck hunting is exciting, but duck calling is an equally must-see event.
In fact, there is an annual competition in Stuttgart, Arkansas, that is held to decide the best duck caller in the world.
The World's Championship Duck Calling contest features hunters who use a duck call to mimic a hail call, a feeding call, a mating call, and a comeback call.
Occasionally, some contestants would compete using their own throats to generate the sounds. Only two people have won this way so far—the first one in 1936 and the second one in 1942.
The current cash prize is $15,000, so you know that these contestants are highly motivated.
5. Buffalo National River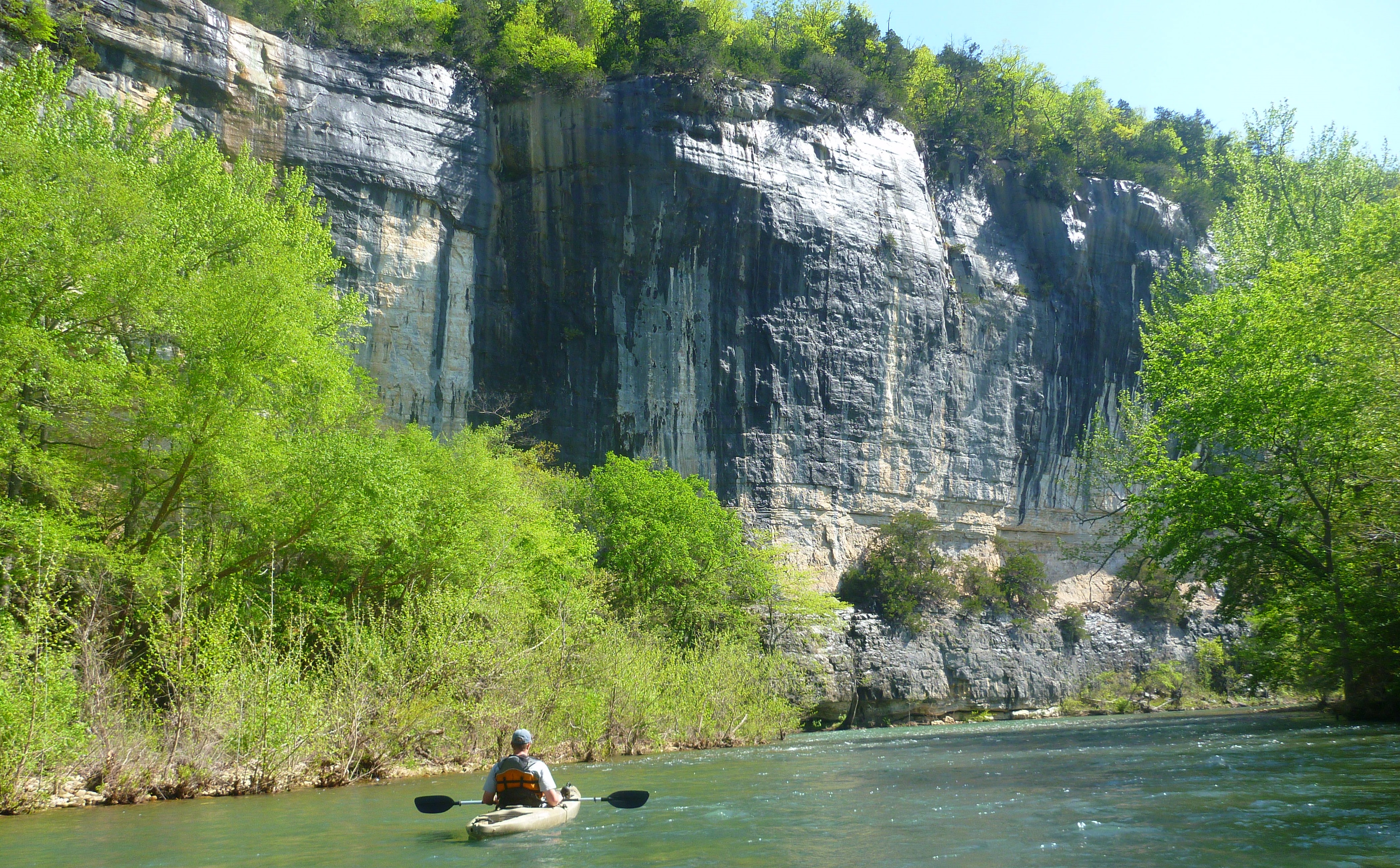 The Buffalo National River offers a great way for people to experience mother nature at its best. 
It is an unspoiled, unpolluted, and free-flowing river, with three areas within its boundaries designated for visitors.
You can go hiking, camping, or horseback riding as you admire the bobcats, deer, and other protected animals in the area.
If you want to literally get your feet wet, you will find kayaks, canoes, and tubes in the water, especially during the summer.
It is the perfect getaway from the hustle and bustle of city life, which is why it is a popular destination for tourists and locals alike.
6. Quartz in Mount Ida
If a trip to the Crater of Diamonds State Park is not for you, then quartz might be more up your speed.
Arkansas just happens to be the quartz capital of the world, thanks to the crystal deposits in Mount Ida.
This city is dotted by numerous mines, all of which are open to visitors. You could dig up your own quartz, regardless if you are a mining newbie or veteran. 
The mines have employees that are more than willing to help you out if you need assistance.
And for those who don't want to get their hands dirty, there are shops where they can buy stunning quartz pieces.
7. Christ of the Ozarks
The Christ of the Ozarks is another landmark in Arkansas that has been drawing tourists in droves for 50 years.
It is 67 feet tall and has a 65-foot arm span, and it stands guard over the Magnetic Mountain in Eureka Springs.
While it does not measure up to the Christ the Redeemer statue in Rio de Janeiro, it is nearly visible in every corner of the town.
Also, the compound where it is built has a park-like atmosphere, with plenty of paths around the monument.
If you find the time to visit, you could also see other sights in the area, including the display of a section of the Berlin wall.
8. Rice Production
Whether you eat rice or not, you have probably heard that Arkansas has a strong rice production industry.
However, not too many people know that it leads all rice-producing states in the US in terms of quantity.
The Natural State is home to around 2,500 rice farms, most of which are family-owned.
Together, they generate over 25,000 jobs and account for more than $4 billion of the annual revenue of Arkansas.
If you want to experience the old ways of rice farming, head to Weiner City in October and watch the Old Time Rice Threshing Demonstration during the Rice Festival.
9. The Arkansas Air Museum
Let's leave the land for a bit and take to the air with the Arkansas Air Museum in Fayetteville. 
It has vintage racing planes and biplanes from the 1920s to 1930s, carefully preserved and kept in good flying condition.
The building itself that plays host to this exhibit is an aircraft hangar from the 1940s.
Even if you are not a history buff, you will find that a trip to this museum would be very stimulating.
10. Mountain View City
Mountain View is the largest city in Stone County, located 100 miles north of Little Rock.
Its name conjures images of epic sceneries and serene landscapes, but it is actually more famous for its music.
Mountain View is known to be the "Folk Music Capital of the World," and rightly so. 
On any given night, one of the locals might start playing on their porch, and two or three of the neighbors are bound to join in.
It is the perfect destination for free-spirited music lovers who want to experience something authentic.
11. Mammoth Spring State Park
Mammoth Spring State Park is located in a town of the same name.
Its claim to fame is that it has one of the largest springs in the US, where nine million gallons of water flow every hour.
Another reason to pay the area a visit is that it looks amazing during October. If you are looking for a place to take your fall foliage road trip, this is it.
12. Thorncrown Chapel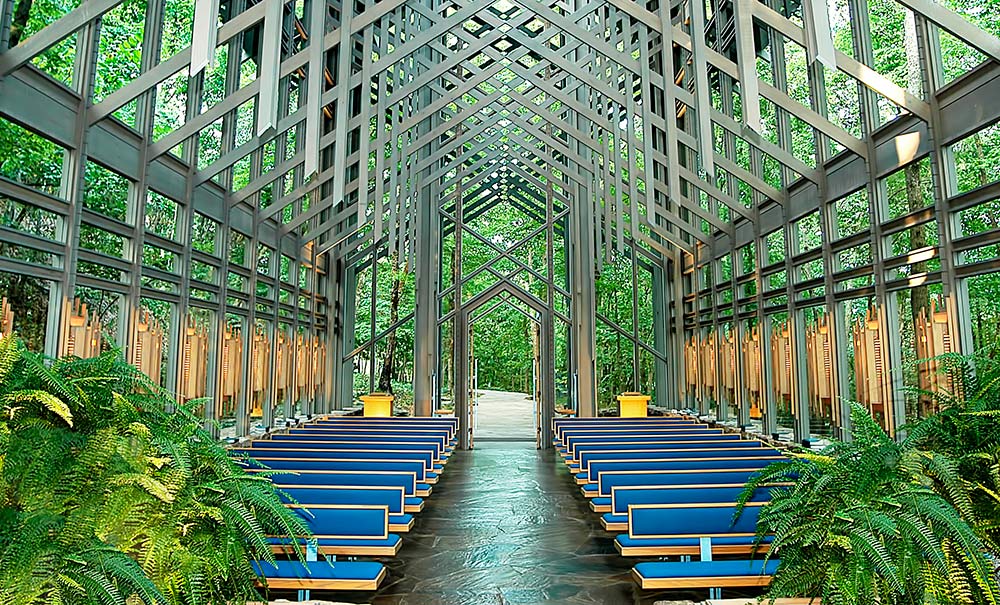 Are you looking for the perfect location in Arkansas for your upcoming wedding? The Thorncrown Chapel might just fit the bill. 
Even if you are not tying the knot anytime soon, the chapel's unique blend of glass and wood, together with the peaceful woodland setting, should be enough to draw you there.
The structure is 48 feet tall, and it has over 6,000 square feet of glass spread throughout its high walls. There are no entrance fees, although you are very welcome to make a donation.
13. Ben Pearson
When asking what is Arkansas known for, you'll find many possible answers. However, Ben Pearson would have to be among the most obvious ones.
Widely hailed as the Father of Modern Archery, he was born in Little Rock, Arkansas. He even made his first bow and arrow in a backyard woodshop there. 
From there, he went on to start the first company in the country to mass-produce archery sets.
14. Mount Magazine State Park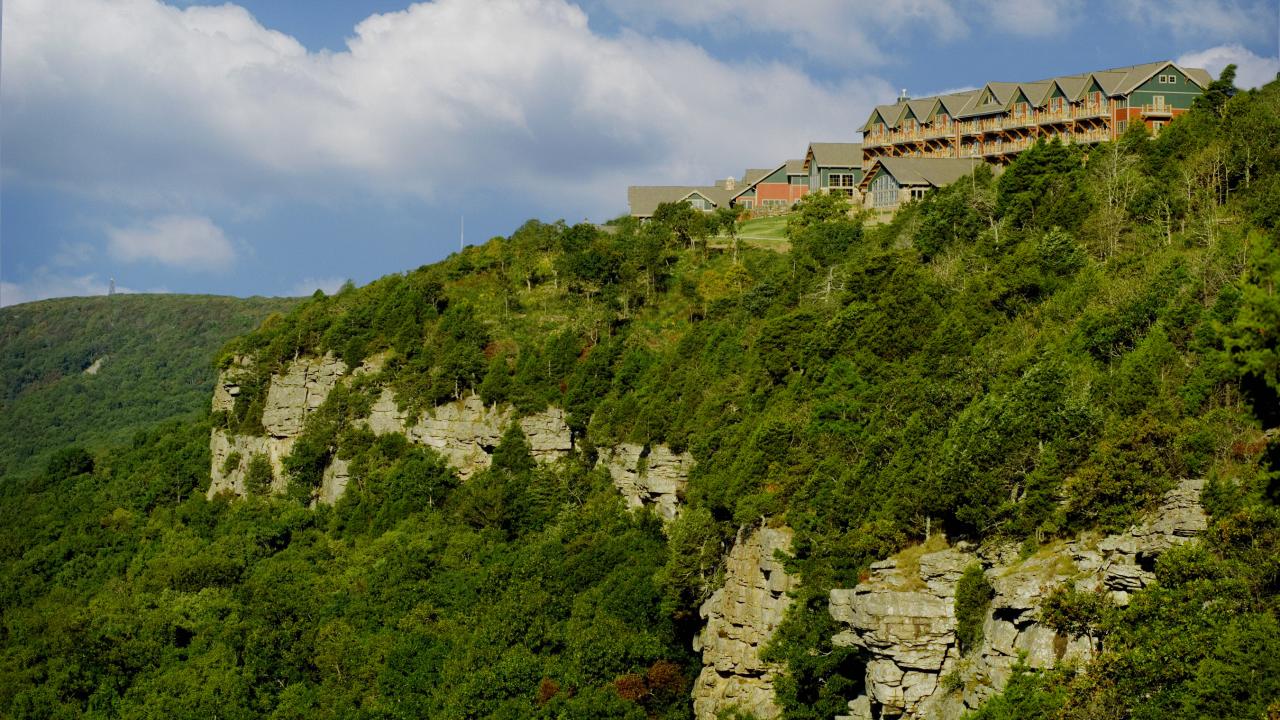 Mount Magazine is the highest point on the tallest mountain in Arkansas, and it is located in Paris, a city in Logan County.
It offers a stunning view from the top that looks like it was taken straight out of a magazine. That's why it is a great spot for a romantic getaway.
At the same time, it has a lot of activities for adrenaline junkies and outdoor enthusiasts, including hang gliding and hiking.
15. Chicken
Arkansas is among the leading exporters of chicken in the country.
It is where you will find Tyson Foods, the second-largest meat processor and distributor of meat products like chicken, pork, and beef.
That said, there are many other strong players in the market, especially in the city of Springdale.
The poultry industry in Arkansas has seen its fair share of ups and downs over the years, but it remains a vital part of the economy.
16. Fishing
Arkansas has one of the largest warm-water hatchery systems in the world. As such, it is only natural that fishing enthusiasts from all over the US flock to the state.
This is especially true since it offers year-round fishing opportunities. Trout is the most common catch, but it also has bass, crappie, and catfish.
17. Watermelons
Arkansas is known for being the nation's "Watermelon Capital." Hope City produces some of the largest watermelons, while Cave City prides itself on having the sweetest ones.
Both places celebrate an annual Watermelon Festival, complete with fun activities and live entertainment.
It is a great opportunity for locals to reconnect, but tourists are very welcome to join the fun.  
About Rock City Outfitters
Whichever place you visit or whatever activity you try in Arkansas, it would be more fun if you had one of our tees on.
Wear this Explore Arkansas shirt as you dig for diamonds or hike some of the best trails. You could also try this Fishin' Arkansas shirt, as it might bring you luck in Arkansas' warm waters. 
If you have other designs in mind, just let us know, and we'll make it happen.
Here at Rock City Outfitters, we design and customize cool shirts to promote your business or just make you look good.
---
Share this post
---
---
---